A funny sign in a Norwegian cocktail lounge:
"Ladies are requested not to have children in the bar."

In a Zurich hotel:
"Because of the impropriety of entertaining guests of the opposite sex
in the bedroom, it is suggested that the lobby be used for this purpose."

In a Bangkok dry cleaner's:
"Drop your trousers here for best results."

In an Acapulco hotel:
"The manager has personally passed all the water served here."

Outside a Hong Kong tailor shop:
"Ladies may have a fit upstairs."

In a Czechoslovakian tourist agency:
"Take one of our horse-driven city tours - we guarantee no miscarriages."

In a Rome laundry:
"Ladies, leave your clothes here and spend the afternoon having a good time."

In a Copenhagen airline ticket office:
"We take your bags and send them in all directions."

A sign posted in Germany's Black Forest:
"It is strictly forbidden on our black forest camping site that people
of different sex, for instance, men and women, live together in one
tent unless they are married with each other for that purpose."

Note at the bottom of the menu of a German restaurant:
"After the main course we suggest that you sample the tart of the house"

In a Paris hotel elevator:
"Please leave your values at the front desk."

In a Japanese hotel:
"You are invited to take advantage of the chambermaid."

In a Leipzig elevator:
"Do not enter the lift backwards, and only when lit up."

In the office of a Roman doctor:
"Specialist in women and other diseases."

In a Bucharest hotel lobby:
"The lift is being fixed for the next day. During that time
we regret that you will be unbearable."

In a Tokyo shop:
"Our nylons cost more than common, but you'll find they are
best in the long run."

On the door of a Moscow hotel room:
"If this is your first visit to the USSR, you are welcome to it."

In an East African newspaper:
"A new swimming pool is rapidly taking shape since the contractors
have thrown in the bulk of their workers."

In a Tokyo bar:
"Special cocktails for the ladies with nuts."

In a London department store:
"Bargain Basement Upstairs"

In a Yugoslavian hotel:
"The flattening of underwear with pleasure is the job of the chambermaid."

In a hotel in Athens:
"Visitors are expected to complain at the office between the hours
of 9 and 11 A.M. daily."

In a Hong Kong supermarket:
"For your convenience, we recommend courageous, efficient self-service."

In the lobby of a Moscow hotel across from a Russian Orthodox monastery:
"You are welcome to visit the cemetery where famous Russian and Soviet
composers, artists, and writers are buried daily except Thursday.

At a Budapest zoo:
"Please do not feed the animals. If you have any suitable food,
give it to the guard on duty.

Advertisement for donkey rides in Thailand:
"Would you like to ride on your own ass?"

In a Japanese hotel room:
"Please to bathe inside the tub."

In a Tokyo Hotel:
"Is forbitten to steal hotel towels please. If you are not person to do
such thing is please not to read notis."

Outside a country shop:
"We buy junk and sell antiques."

In a loan company window:
"Now you can borrow enough money to get completely out of debt."

In the window of a Travel Agency:
"Please Go Away!"

In a funeral parlor:
"Ask about our layaway plan."

In an ad for a swimwear store:
"Our bikinis are exciting. They are simply the tops!"

Advertisement at a gas station, between San Francisco and Los Angeles on
Interstate 5:
"Kids with gas eat free!"

In a clothing store:
"Wonderful bargains for men with 16 and 17 necks."

In a Tacoma, Washington men's clothing store:
"15 men's wool suits, $10. They won't last an hour!"

In a Pennsylvania cemetery:
"Persons are prohibited from picking flowers from any but their own graves."

At the dry cleaners:
"We do not tear your clothing with machinery. We do it carefully by hand."

On a shopping mall marquee:
"Archery Tournament -- Ears pierced"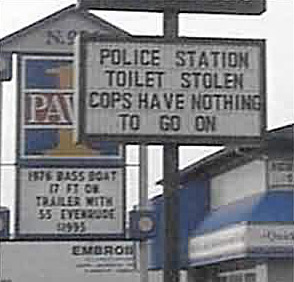 In a repair shop:
"We will oil your sewing machine and adjust tension in your home for $1."

In a department store:
"Stock up and save!
Limit one per customer."

In the window of an Oregon store:
"Why go elsewhere and be cheated when you can come here?"

On a Tennessee highway:
"When this sign is under water, this road is impassable."

On an Atlantic City hotel restaurant:
"Have your next affair here."

In a Maine restaurant:
"Open 7 days a week and weekends."

On the grounds of a public school:
"No trespassing without permission."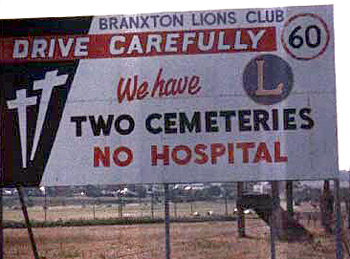 On a radiator repair garage:
"Best place to take a leak."

In the vestry of a New England church:
"Will the last person to leave please see that the perpetual light is extinguished."

On a roller coaster:
"Watch your head."

Advertisement for lawn sprinkler system:
"Dew it yourself."

In a Laundromat::
"Automatic Washing Machines: Please Rremove all your clothes when the light goes out."

In front of a New Hampshire car wash:
"If you can't read this, it's time to wash your car."