Although Jimi Hendrix has been gone for almost 40 years, it's a testament to his musical genius that today's musicians still try to emulate his style. Jimi Hendrix was born a "once in a lifetime artist" who delivered some of the most explosive and revolutionary rock music of the 20th century. Widely hailed by fans, critics and peers alike, Jimi Hendrix to this day retains his crown as #1 guitarist on Rolling Stone Magazine's list of 100 great guitarists of all time.

An American musician of African, European, Cherokee Indian and Mexican descent, Jimi was born Johnny Allen Hendrix (so named by his mother Lucille Jeter) in Seattle's King County Hospital on November 27,1942. At the time, Jimi's father James "Al" Hendrix was in the army. An unsettled home environment resulted in Jimi spending much of his early childhood staying with his grandmother, a full-blooded Cherokee Indian, in Canada. At three years old, Jimi was formally renamed James Marshall Hendrix by his father. When Jimi's parents divorced, father Al took on the responsibility for his son's upbringing.

From an early age, Jimi was drawn to music. He was a shy, sensitive child and in his difficult, poverty-stricken childhood, music provided the only ray of sunshine. His father owned some B.B. King and Muddy Waters records that Jimi loved listening to over and over. He also drew influence from other major artists of the time such as Howlin' Wolf, Buddy Holly, and Robert Johnson. Then, in Seattle 1957 Jimi attended a performance by Elvis Presley and was deeply impressed.

Jimi would strum a straw broom as a poor guitar substitution. Al took notice of his son's interest in the guitar and recalled, "I used to have Jimmy clean up the bedroom all the time while I was gone, and when I would come home I would find a lot of broom straws around the foot of the bed. I'd say to him, "Well didn't you sweep up the floor?" and he'd say, "Oh yeah, he did. But I'd find out later that he used to be sitting at the end of the bed there and strumming the broom like he was playing a guitar."

Al gave Jimi an old one-string ukulele to play, which was a huge improvement over the broom. By the summer of 1958, Al picked up a five-dollar, second-hand acoustic guitar from one of his friends. Jimi practiced day and night and even slept with his guitar by his side. Shortly thereafter, Jimi joined his first band, The Velvetones, but after three months he left to pursue his own interests. In the summer of 1959, Al purchased Jimi's first electric guitar - a Supro Ozark 1560, which Jimi used when he joined the Rocking Kings. From then on, there was no looking back - the future rock star was on his way.

Although Jimi did not know how to read music, he had the gift of playing by ear alone. Entirely self taught, he slowly developed his own original and flamboyant playing style. In addition, he developed the art of playing a right-handed guitar with his left hand by restringing the guitar and turning it upside down.

After leaving school at the age of 16, Jimi played in rock 'n roll teenage bands before voluntarily joining the army at age 17. In 1961, Jimmy left home to enlist in the United States Army and in November 1962 earned the right to wear the "Screaming Eagles" patch for the paratroop division. While stationed at Fort Campbell, Kentucky, Jimi formed his first band - The King Kasuals - along with fellow soldier and bassist Billy Cox. After 14 months as a paratrooper, learning a lot about falling and flying, he sustained an injury during a parachute jump and was honorably discharged from the army. At this point, Jimi decided to enter the music field and began working as a session guitarist under the name Jimmy James.

By the end of 1965, Jimi had played with several marquee acts, including Ike and Tina Turner, Sam Cooke, the Isley Brothers, and Little Richard. Jimi wasn't content being a backline guitarist and after parting ways with Little Richard, he moved to New York, formed his own band - Jimmy James and the Blue Flames - and spent much of his time playing small venue gigs around Greenwich Village. Even then, Jimi's extraordinary guitar playing made him a standout.

One evening, while playing at Café Wha?, Jimi caught the attention of Chas Chandler, bassist for the British pop group The Animals. Chas was impressed with Jimi's explosive, over the top performance and returned again in September 1966 to sign Jimi to an agreement that would have him move to London to form a new band. Chas convinced Jimi to fly to England with him. Once in England, Chas switched careers from bass player to manager, changed "Jimmy's" name to "Jimi", added bassist Noel Redding and drummer Mitch Mitchell and formed a new band, "The Jimi Hendrix Experience."

The Jimi Hendrix Experience took London by storm in the fall of 1966 and quickly became the talk of the town. Jimi's ferocious guitar playing made the reigning British superstars - Eric Clapton, The Beatles and The Who - seem tame in comparison. Jimi was doing things with his guitar that were thought to be impossible. He immediately garnered respect from his peers and adoration from his crowds of fans.

The band released three albums Jimmy Hendrix Burning His Fender Guitar" in succession - Are You Experienced? (1967), Axis: Bold as Love (also 1967), and Electric Ladyland (1968), which includes Jimi's version of Bob Dylan's "All Along the Watchtower"). Are You Experienced? is still one of the most popular rock albums of all time, featuring tracks like "Purple Haze," "The Wind Cries Mary," "Foxey Lady," "Fire," and "Are You Experienced?" (The single, "Purple Haze" remains one of rock's all time classics.)

Although Jimi experienced overwhelming success in Britain, America remained seemingly immune to his popularity. But that was to change with the Monterey Pop Festival in June 1967, where at the insistence of Paul McCartney, Jimi was given a chance to play. Brian Jones of the Rolling Stones introduced Jimi as "the most exciting performer I've ever heard." When Jimi performed his impassioned version of "Wild Thing" the audience went wild. As a finale, he outrageously poured lighter fluid on his Fender Stratocaster and set it ablaze. He then proceeded to smash the burning guitar, and toss the pieces into the frenzied crowd. America was immediately ignited by the Jimi phenomenon and his homecoming was triumphant!

Throughout 1968, the demands of relentless touring, the pressures of sudden fame, and various other problems had a major impact on the group. Unfortunately, in February 1969, after the release of their third album, the Jimi Hendrix Experience disbanded.

The Jimi phenomenon, however, was not about to be stopped. Along with Mitch Mitchell, army buddy Billy Cox, Juma Sultan and Jerry Velez, Jimi formed a new band - Gypsy Sun & Rainbows. It was with this group that he played at the "Woodstock Festival in August 1969. The highlight of the festival was Jimi's violent and impressionistic rendition of "The Star Spangled Banner".

When Jimi later appeared on The Dick Cavett show, Cavett questioned this controversial and unorthodox performance. Jimi replied, "I thought it was beautiful." The applauding audience obviously agreed.

Jimi next formed a new collaboration in 1969, Band of Gypsys, featuring bassist Billy Cox and drummer Buddy Miles from Electric Flag. The trio played four New Year's performances on December 31, 1969 and January 1, 1970. Highlights from these performances were included on the Band of Gypsys album (1970) and also on the expanded 1999 version of "Hendrix: Live At The Fillmore East".

As 1970 progressed, Jimi reunited with drummer Mitch Mitchell and along with Billy Cox on bass the trio revived The Jimi Hendrix Experience. The group began work on a new album tentatively titled First Ray of The New Rising Sun. This year also saw the grand opening of Jimi's very own recording studio, Electric Lady. He couldn't wait to start recording in the studio but destiny had other plans.

On September 18, 1970, Jimi Hendrix died in London of asphyxiation, just two short weeks before the death of another rock icon, Janis Joplin. The suddenness of his untimely death was a grievous shock to his legions of friends, fans, peers and every guitar and rock music lover.

Because he was unable to read or write music, it is nothing short of astounding that Jimi Hendrix's meteoric rise took place in just four short years. He was inducted into the Rock and Roll Hall of Fame in 1992 as a member of The Jimi Hendrix Experience and has a star on the Hollywood Walk of Fame. His music continues to influence today's musicians, from George Clinton to Miles Davis, and Steve Vai to Jonny Lang.

Fellow artist and admirer, Pete Townshend of The Who, summed up Jimi's flamboyant performances when he said, "I feel sad for people who have to judge Jimi Hendrix on the basis of recordings and film alone, because in the flesh he was so extraordinary. He had a kind of alchemist's ability; when he was on stage, he changed. He physically changed. He became incredibly graceful and beautiful."

In May 2006 the town of Seattle paid honor to the music, artistry, and legend of Jimi Hendrix by naming a park after him, which is located in the heart of the Central District near Seattle's historic Colman School.

Jimi Hendrix may be gone, but as long as we have access to his albums and modern artists keep interpreting his style, Jimi's music will live on forever.


Mitch, Jimi, Noel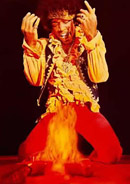 Monterey Fairgrounds
June 16, 1967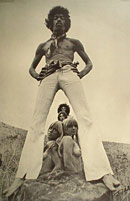 Jimi Hendrix Experience Poster




Fillmore Auditorium
Feb. 1, 1968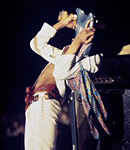 Singer Bowl
Aug. 23, 1968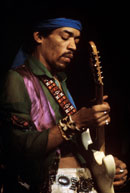 Oakland Coliseum Arena
Apr. 27, 1969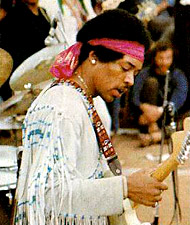 Woodstock
Aug. 18, 1969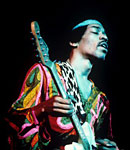 Middle Georgia Raceway
July 3, 1970




Jimi with father Al