Who are they? I never heard of a musician by that name. Let's explore some very popular musicians, who went by a different name, names we will instantly recognize.
---
Chester Arthur Burnett - Howlin' Wolf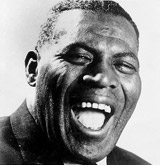 Named after the 21st President of the US, Chester A. Arthur, Chester Arthur Burnett or Howlin' Wolf, made a name for himself as an influential blues singers and musician, he explains the name:

"I got that from my grandfather [John Jones]." He used to tell him stories about the wolves in that part of the country and warn him that if he misbehaved, they would "get him".

At well over 6 ft. (6 ft and 6 inches to be exact) and blessed with a booming voice, a looming physical presence and the love of the Delta Blues, Howlin' Wolf is commonly thought of as one of the leading electric blues performers of all time, with such classic cuts as "Smokestack Lightnin'," "Back Door Man" and "Spoonful;" all three standards of Blues Rock. Sam Phillips once remarked of Chester Arthur Burnett, "When I heard Howlin' Wolf, I said, 'This is for me. This is where the soul of man never dies.'

Along with Muddy Waters, Sonny Boy Williamson and Little Walter, Wolf is considered to be one of the greatest Chicago Blues musicians who recorded for the legendary Chicago record label Chess Records. Howlin' Wolf's 1962 self-titled album is one of the most famous and influential blues album of all time and is often referred to as "The Rocking Chair album" because of its cover illustration depicting an acoustic guitar leaning against a rocking chair.

This storied bluesman's career is peerless and he died at Hines VA Hospital in Hines, Illinois on January 10, 1976. He was buried in Oak Ridge Cemetery, Hillside, Cook County, Illinois in a plot in Section 18, on the east side of the road. His large gravestone, allegedly purchased by Eric Clapton, has an image of a guitar and harmonica etched into it. In 2004, Rolling Stone Magazine ranked him #51 on their list of the 100 Greatest Artists of All Time.
---
Leslie Sue Goldstein - Leslie Gore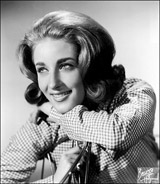 New York City native Leslie Sue Goldstein was not a well known name in 1963, however, when the breakthrough teen pop hit "It's My Party" shot up to the top of the charts, everybody knew that Leslie Sue was in fact, Leslie Gore; who was one of the pioneers of the girl group sound of the sixties.

Only a junior in high school when the song hit, the tale of this song, the lead character's birthday party, did not turn out to be the happy occasion that she thought it would be. In the middle of the party, her boyfriend Johnny departed with a girl named Judy. Her next hit, the sequel to "It's My Party," was a song called "Judy's Turn To Cry" (#5), told the story of the lead character forgiving Johnny and reuniting with him.

Gore also charted with "She's A Fool" (#5 in 1963), the proto-feminist "You Don't Own Me" (#2 in 1963), "That's The Way Boys Are" (#12 in 1964), "Maybe I Know" (#14 in 1964), and she was nominated for a Grammy in 1965 for Contemporary Rock and Roll female vocal performance with her song "Sunshine, Lollipops And Rainbows" (#13). Interestingly, Gore's producer at the time (Quincy Jones, who would later become one of the most famous producers in American music) turned down the song "A Groovy Kind Of Love" because it contained the word 'groovy' in the title. The Mindbenders had no such problem, ultimately taking their version of the song to #2 on the charts in 1966. Additionally, her version of the song "Wedding Bell Blues" was a flop, but the Fifth Dimension took the cut to #1 in 1969.

Gore was one of the most popular singers of the early 60s. However, instead of accepting the numerous television and movie contracts, she chose to attend college, which limited her public appearances and undoubtedly hurt her career. She has kept busy in the industry, despite maintaining a low profile, choosing to perform in concert, in cabarets and write music. In 2005, she released her first album of new material since 1976, an album called "Ever Since" and songs from that LP have been used in television and film.
---
Philip Blondheim - Scott McKenzie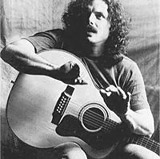 There was magic in the air and flower power ruled when Philip Blondheim became one of the most well-known names in the pop rock circuit. Who? Well, we know him better as Scott McKenzie and his name is synomonus with the summer of love anthem "San Francisco (Be Sure To Wear Flowers In Your Hair)," a #4 hit in 1967.

McKenzie was friends with John Phillips (of The Mamas & the Papas fame) and they both played in a band called the Journeymen in the early sixties. After they broke up, they discussed the formation of a new band called the Mamas & the Papas, however, McKenzie wanted to try his luck solo, and the group was formed without him and moved to California. McKenzie soon found his way reunite with Phillips, who wrote and co-produced the Top Ten hit.

The song was also an advertisement of sorts, with the line "For those who go to San Francisco, summertime will be a love-in there" which referred to the upcoming Monterey Pop Festival. The song was recorded in an all night session and then released to the coastal radio stations, where it caught on like wildfire; becoming an instant national and international hit and becoming the anthem for flower children everywhere.

McKenzie had one other hit, the 1967 Top 40 hit "Like An Old Time Movie" - (#24 in 1967-again written by John Phillips) and despite other recordings, he was never able to duplicate his success. He stopped recording in the early 70s and semi-retired to Joshua Tree, California. McKenzie joined up with Phillips again in the 80s Mamas & the Papas reunion tours and in 1988, he co-wrote the #1 hit for the Beach Boys called "Kokomo."
---
Ray Hildebrand and Jill Jackson - Paul and Paula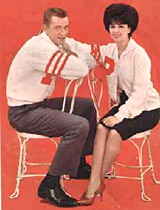 In 1962, Ray Hildebrand and Jill Jackson were attending college when a local disc jockey in Brownwood Texas, asked his listeners to come to the studio to sing their songs to help the American Cancer Society. Ray and Jill sang a song that Ray had written called "Hey Paula." Urged on by townspeople, the duo sought to make it a professional recording.

Ray and Jill then drove to Fort Worth in November of 1962, hoping for an audition with Major Smith, the owner of LeCam Records. However, not everything went as planned. Upon getting to the studio they were told that Major Bill was busy recording someone else and did not have time to see them that day. The pair hung around, hoping to get their chance. Major Bill was impatiently awaiting the arrival of another singer, who failed to show up and he had five musicians standing around doing nothing. Someone told him that these two kids were still hanging around, so Smith decided to hear what they had. They sang "Hey Hey Paula" and after the recording session was over, he asked them what to you call yourselves? They said "Jill and Ray," so that what was printed of the record label. Smith knew he had a hit and started to pitch the record, but found no takers. He eventually released the record himself and "Hey Paula" sold more than sixteen thousand records in one day. He was approached by Shelby Singleton of Mercury Records who decided to change the name of the duo to Paul & Paula, because it fit better with the words of the song. At first, Jill and Ray didn't like the idea, but knew it was the right thing to do.

The record broke out nationally right after the Christmas of 1962 and spent three weeks at the top position in February of 1963, spending an incredible fifteen weeks on the best sellers list and sold more than two millions records. Interesting to note, the Sweethearts of the 60's were #1 on the charts with Hey Paula on Valentine's Day, Feb 14th. The follow-up "Young Lovers," peaked at #6 on the charts later in that year, however subsequent releases didn't fare as well and Ray, tired of the road, decided to quit and the duo split up in 1965. Hildebrand decided to finish his college education and Jackson went on to a solo career.

As for Paul & Paula, they were never married to each other; Jackson married the duo's manager and later an attorney from California. Ray found work as a song writer and in July of 1967, Ray and his wife Judy and their 3 year old daughter Heidi, moved from Ft. Worth, Texas to Kansas City to go to work for the Fellowship of Christian Athletes. While traveling for the FCA and doing music concerts with his new music career, Ray became one of the pioneers/founders of Contemporary Christian Music. He has collaborated with Paul Land and they teamed up as Land and Hildebrand to perform a number of gospel albums through the 80s and 90s.

Over the years, countless fans have testified that they fell in love and got married because of the song, were named after the song, named their kids after the song, or were greatly encouraged because of this timeless song. In fact, on the 25th anniversary of Elvis Presley's death, Priscilla Presley stated in a television interview that one of her husband's favorite songs was "Hey, Paula." She said Elvis had sent the record to her from Germany while he was in the army. Not bad for two kids who were lucky enough to be seen on a busy day at the studio.

The radio and television appearances on past royalty statements indicate that "Hey, Paula" has been played somewhere in the world virtually every day since 1962. Today, Jill and Ray, get together from time-to-time to sing as Paul & Paula for special events.



---
Part 2: Lobo, Tommy James, Ron Dante
---
Article by: Robert Benson
collectingvinylrecords.blogspot.com