With the renewed interest in vinyl records, an old friend is becoming more important again- album cover art. There have been tens of thousands of album covers created throughout the years and there are some that are instantly recognized, while some remain obscure, but one thing is certain, album cover art is part of our pop culture and the rock and roll lexicon.
Let's explore a particularly innovative British art design company that specialized in creating instantly recognizable album cover- Hipgnosis. This creative group has made album covers for some of rock's dignitaries, including Pink Floyd, Genesis, Black Sabbath, Led Zeppelin, Yes and the Scorpions, to name a few.
Hipgnosis primarily consisted of artists Storm Thorgerson, Aubrey Powell and later on, Peter Christopherson. In 1968, Thorgerson and Powell were asked to design an album cover for Pink Floyd's second album called "A Saucerful Of Secrets." They completed that project and soon commissioned additional work from EMI, which included photos and album covers for Free, Toe Fat and the Gods.
Being art and film students, the pair was able to utilize the darkroom at the Royal College of Art, but after they graduated, they had to set up their own facilities and in early 1970 they rented a space and built their famous studio. Their unique company name came from graffiti found on the door to their apartment. They liked the word because it sounded like hypnosis and they combined two somewhat contradictory terms, "hip" for new and cool and "gnosis," which related to ancient learning.
Hipgnosis' novel approach to album design was strongly photography-oriented, and they pioneered the use of many innovative visual and packaging techniques. In particular, Thorgerson & Powell's surreal, elaborately manipulated photos that utilized innovative darkroom tricks, multiple exposures, airbrush retouching, and mechanical cut-and-paste techniques were a film-based forerunner of what would, much later, be called photoshopping.
"We were self-taught," writes Powell in the book, "For The Love Of Vinyl." "What we did was come up with ideas based on the music. The design ideas were poorly sketched in the early days and required a lot of accompanying blag to be understood. Our usual strategy was to talk the job through with each other and then use photography as a means to express it."
Hipgnosis got their real big break in 1973 when they were hired to do the cover for another Pink Floyd album, "Dark Side Of The Moon," which is one of the most recognized album covers in the world. After the success with the Floyd cover, they were in high demand and soon took on jobs for Led Zeppelin, Genesis, UFO, Black Sabbath, Peter Gabriel and The Alan Parsons Project, to name a few.
Peter Christopherson joined the company in 1974 as an assistant and later on he became a full partner. The firm employed many talented assistants, of particular note were freelance artists George Hardie, Colin Elgie, Richard Manning and Richard Evans.
Another interesting side note is that the company did not have a set fee for designing a particular album cover, instead they asked the musicians to "pay what they thought it was worth," a policy that would occasionally backfire according to Thorgerson.
Let's explore some of the stories behind the album covers:
---
Pink Floyd - Dark Side Of The Moon (1973)
Probably Hipgnosis' most famous work, the album was originally released in a gatefold LP sleeve designed by Hipgnosis and bore Hardie's iconic refracting prism on the cover. Inside the LP were two posters, one bearing pictures of the band in concert with the words PINK FLOYD broken up and scattered about, and the other being a slightly psychedelic image of the Great Pyramids of Giza taken on infrared film. The album was also the first Pink Floyd album to have picture labels on the record where it depicted a blue prism with black background and the credits written either in grey lettering (European issues) or white lettering (US and Canadian issues). Also included was a sheet of stickers of the pyramids.
The album is the third best-selling album of all time worldwide (not counting compilations and various artists soundtracks), and the 20th-best-selling album in the United States. Though it held the #1 spot in the USA for only one week, it spent a total of 741 consecutive weeks (over fourteen years) on Billboard's list of the top 200 best selling albums, longer than any other album in the history of music.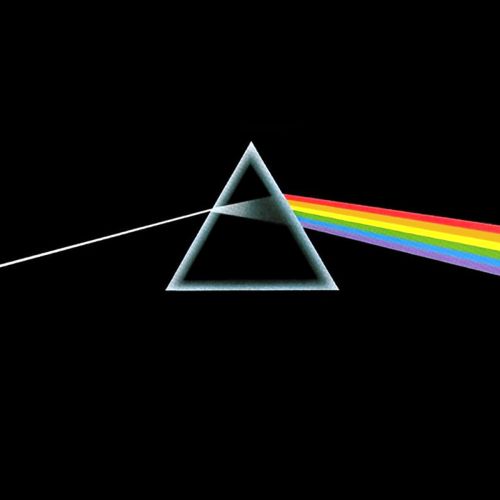 ---
Led Zeppelin - Houses of The Holy (1973)
The concept for the cover was taken from Arthur C Clarke's Childhood's End. It is a collage of several photographs which were taken at the Giant's Causeway, Northern Ireland, by Aubrey Powell. The two children who modeled for the cover were siblings Stefan and Samantha Gate. The photo shoot was a very frustrating affair and took ten days. Shooting was done first thing in the morning and at sunset in order to capture the light at dawn and dusk, but the desired effect was never achieved due to constant rain and clouds. The photos of the two children were taken in black and white and were multi-printed to create the effect of 11 individuals that can be seen on the album cover. The results of the shoot were less than satisfactory, but some accidental tinting effects in post-production created an unexpectedly striking album cover. The inner sleeve photograph was taken at Dunluce Castle near to the Causeway.
Jimmy Page has said that the album cover was actually the second version submitted by Hipgnosis. The first, by artist Storm Thorgerson, featured an electric green tennis court with a tennis racquet on it. The band was furious that Thorgerson was implying their music sounded like a "racket", the band fired him and hired Powell in his place.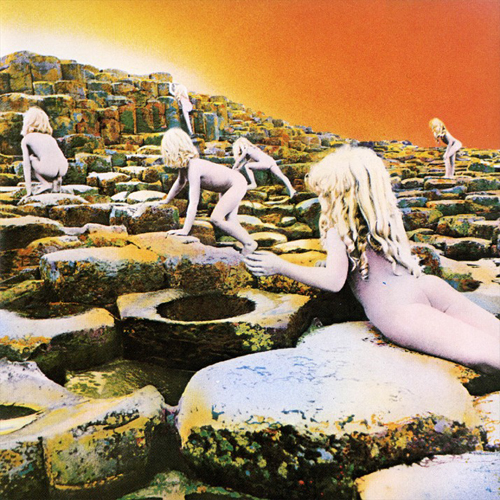 ---
Atom Heart Mother - Pink Floyd (1970)
The original album cover depicts a cow standing in a pasture with no text or any other clue that it was an album from Pink Floyd, although some later editions have the title and artist name added to the cover. The concept was the group's reaction to the psychedelic "space rock" imagery associated with Pink Floyd at the time; the band wanted to explore all sorts of music without being limited to a particular image or style of performance.
So the band requested that their new album cover have "something plain" on the cover, which ended up being the image of the cow. Storm Thorgerson, inspired by Andy Warhol's famous "cow-wallpaper," has stated that he simply drove out into a rural area near Potters Bar and photographed the first cow he saw. The cow's owner identified her name as "Lulubelle III." More cows appear on the back cover (again, with no text or titles), and on the inside gatefold. Again, an instantly recognizable cover, simple as it is.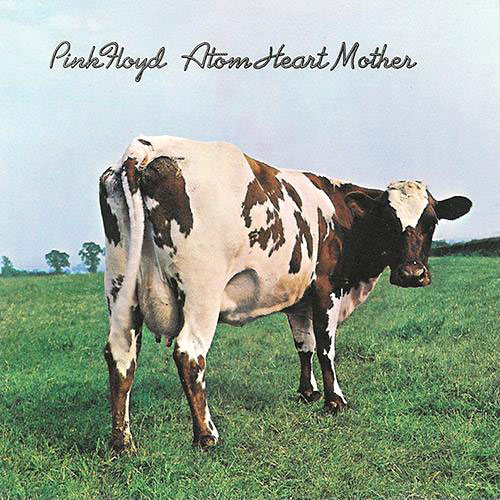 ---
Peter Gabriel (1980)
Peter Gabriel's third album, it contains two of Gabriel's most famous songs, the U.K. Top 10 hit "Games Without Frontiers" and the political song "Biko."
This album is often referred to as "Melt" due to its cover photograph by Storm Thorgerson. The photo was taken with a Polaroid SX-70 instant camera, and subsequently modified by Thorgerson or Gabriel, and one side of the portrait of Gabriel seems to be melting; although Thorgerson does not recall whether he or Gabriel manipulated the image.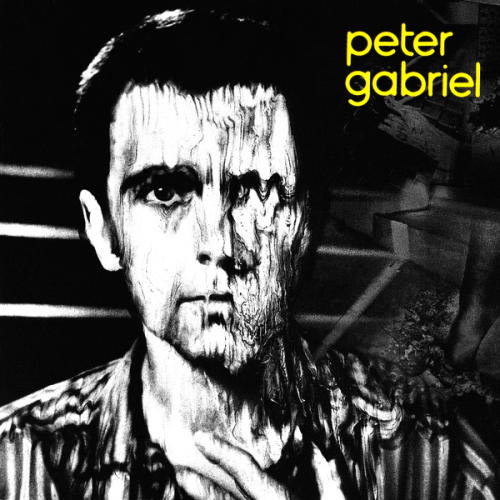 ---
...And Then There Were Three... Genesis (1978)
A rather gloomy and dark cover; it is one that Hipgnosis was not real keen on as Thorgerson explains: "We were trying to tell a story by the traces left by the light trails. It was a torch, a car, and a man with a cigarette. The band was losing members and there were only three of them left. The lyrics of the songs were about comings and goings and we tried to describe this in photographic terms by using time-lapse. So there's a car going off to one side and then the guy gets out of the car, walks over to the front of it, and lights a cigarette. But as he walks he uses a torch and the car he was in leaves. There's a trail left by the car, a trail left by him as he's walking and then he lights a cigarette, which on the cover is where there's a flash of his face."
Still, whether the company was happy with the result or not, it is another amazing cover.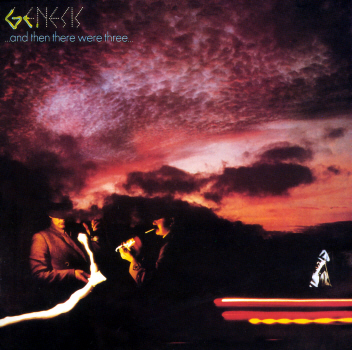 ---
In Through the Out Door - Led Zeppelin
This original album featured an unusual gimmick: the album had an outer sleeve which was made to look like a plain brown paper bag and the inner sleeve featured black and white line artwork which, if washed with a wet brush, would become permanently fully colored. There were six different sleeves featuring a different pair of photos and the external brown paper sleeve meant that it was impossible for record buyers to tell which sleeve they were getting. The pictures all depicted the same scene in a bar (in which a man burns a Dear John letter), and each photo was taken from the separate point of view of someone who appeared in the other photos. In 1980 the album was nominated for a Grammy Award in the category of best album package.
Storm Thorgerson recalls the design in his book "Eye of the Storm":
"The sepia quality was meant to evoke a non-specific past and to allow the brushstroke across the middle to be better rendered in color and so make a contrast. This self same brushstroke was like the swish of a wiper across a wet windscreen, like a lick of fresh paint across a faded surface, a new look to an old scene, which was what Led Zeppelin told us about their album. A lick of fresh paint, as per Led Zeppelin, and the music on this album...It somehow grew in proportion and became six viewpoints of the same man in the bar, seen by the six other characters. Six different versions of the same image and six different covers."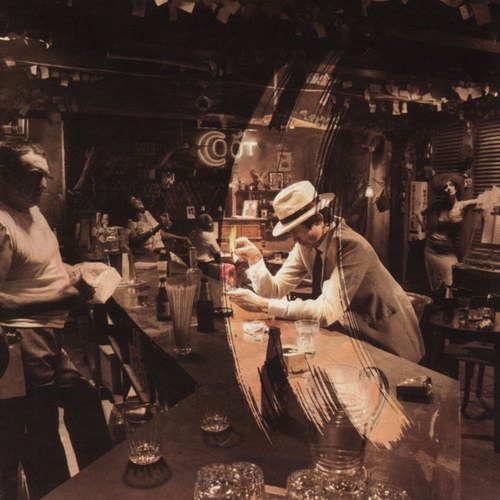 Hipgnosis' ideology and concepts are still being utilized and will be copied for years to come. Thankfully, these young art and photography students understood the meaning of an album cover and the art and music worlds are a better place because of their insights and talent.