I'm feeling ambitious so here we go. I wanted to show an example of why I love this guy's music so much and this little piece demonstrates a lot of the best qualities of Brahms. This is an Intermezzo, op. 118 no 2. It's in ternary form (A-B-A, sections labelled) and I've inserted numbers for notes.
At number 1, the main melodic material for the piece occurs in the highest voice in the first four bars, with the most important motif being the opening C#-B-D. Number 2 foreshadows the main melodic material for the B section in the upper voice, the E-B-A-G# in straight quarter notes.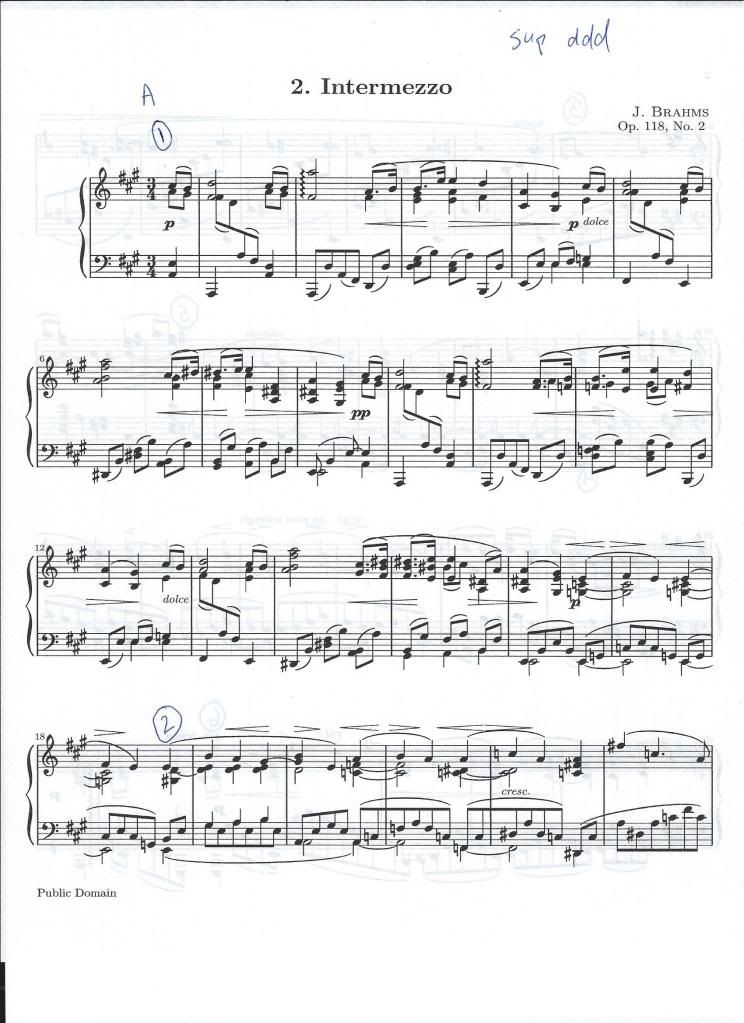 Numbers 3, 4, 5, and 6 are a development of the opening three-note motif from number 1. The development at number 3 happens in the upper voice through measure 29. At number 4 the development is in the lowest voice, the same C#-B-D repeated several times. Also at number 4 in the highest voice he's continuing to foreshadow the B melody with the quarter notes descending by step. At number 5 the development is in the highest voice, the three-note motif inverted. At number 6, C#-B-D is in the middle voice leading into the cadence (although whoever typeset this didn't realize what Brahms was doing--the D written as the upper note in the first inversion triad on beat one of measure 47 belongs to what preceded it on the staff above)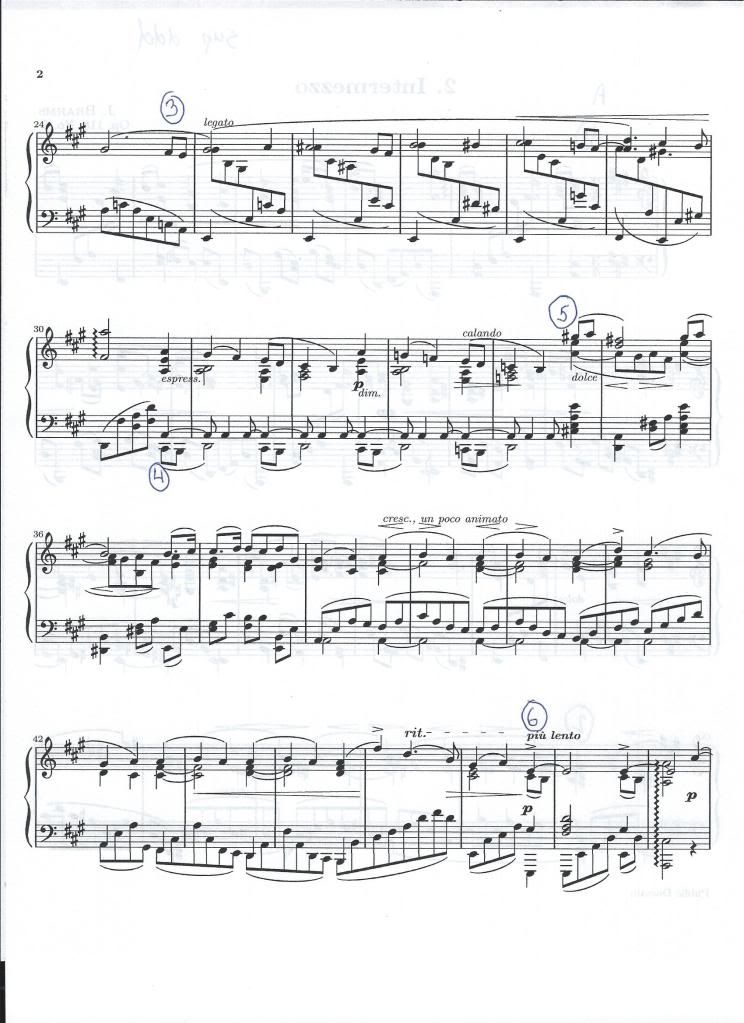 Measure 49 marks the beginning of the B section, the melody of which is derived from material from the A section. Number 7 highlights that the B section melody is set against itself immediately in a near canon. The middle voice, notated by up-stemmed quarter notes in the left hand, is almost the exact same melody two beats behind the upper voice. Number 8 is a variation of the same canon. Number 9 switches the upper and lower melodies. The canon-like treatment continues through measure 73.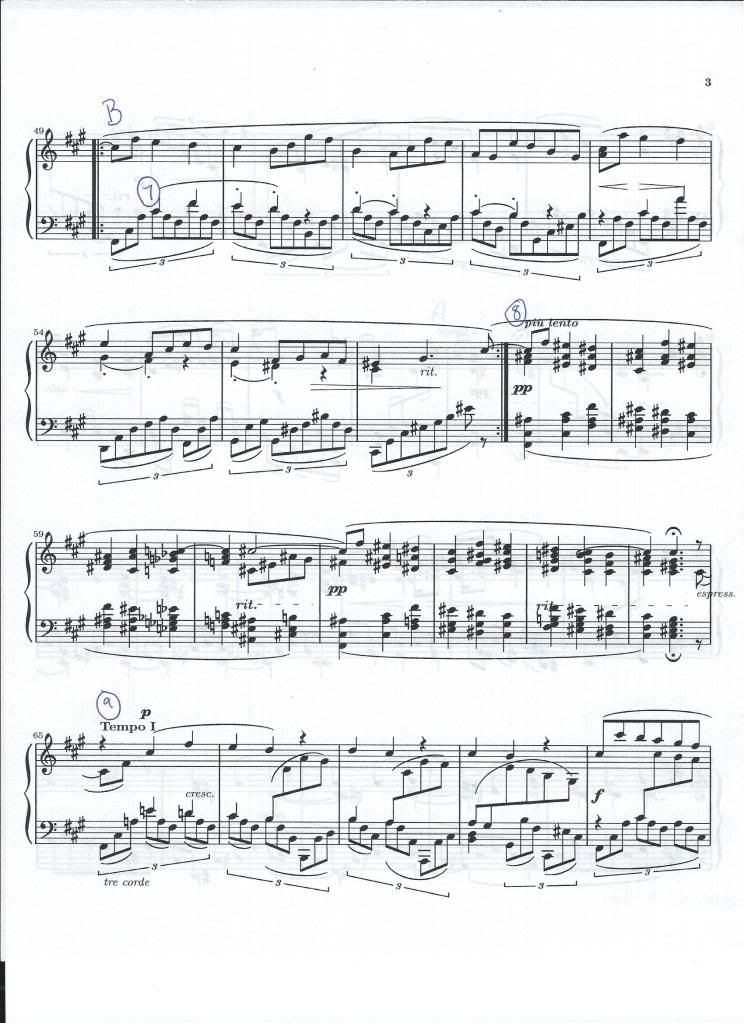 Section A is restated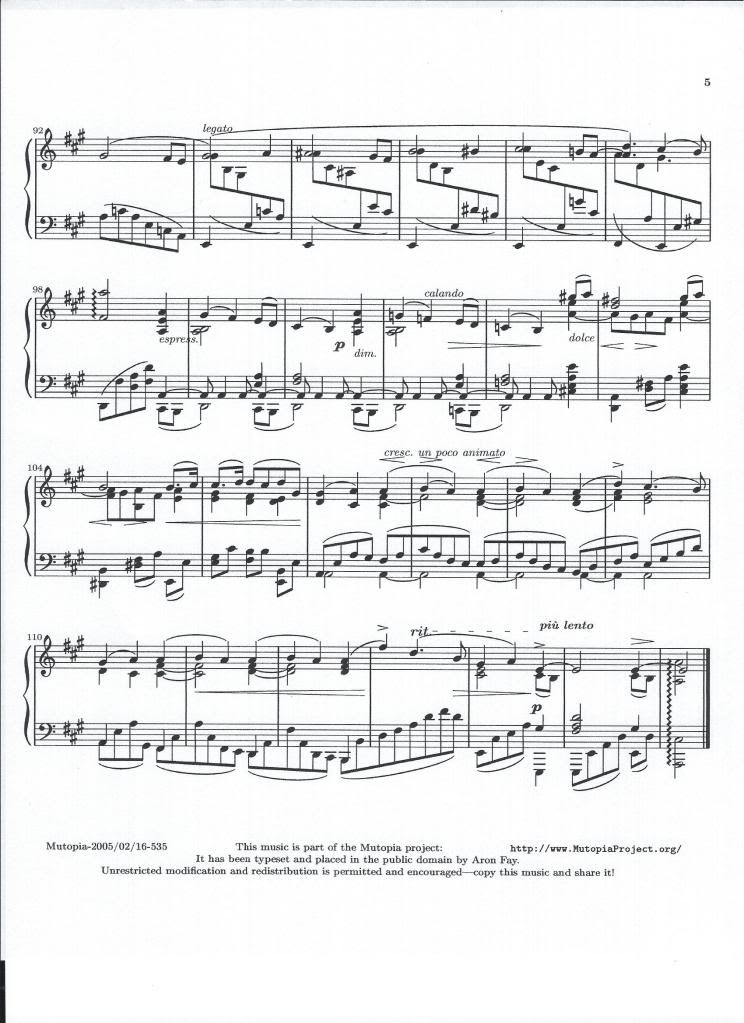 Brahms worked his pieces over and over. He wrote, rewrote, reworked, burned, re-reworked. As a result, the product is highly polished and tight in terms of craftsmanship. And just looking at it you might expect the above and a lot of his music to come off somewhat academic and rigid. Far from it! Listen to this (not great audio quality in this recording but I like how he plays it).
This particular piece was written near the end of his life when his health was deteriorating, and like most of his piano music through this stretch of his life it carries a heavy melancholy, yet is achingly beautiful. It's Brahms ability to balance the most intelligent musical construction since Bach with the soul of a romantic that makes his music speak to me like no other music can.