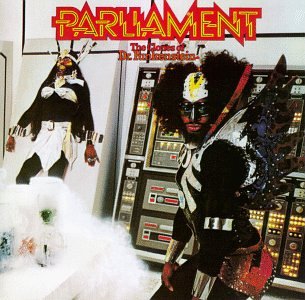 From 1975 to 1977, funk band and traveling circus Parliament released a trilogy of classic funk albums (Mothership Connection, The Clones of Dr. Funkenstein, Funkentelechy vs. the Placebo Syndrome). Of those three, Mothership Connection is generally considered to be one of the all-time funk greats. Unfortunately, It's popularity seems to have distracted listeners from the other two albums. Both of these albums are musically outstanding on their own. I already wrote a review on Funkentelechy, so I felt an obligation to finally write a review for the other album.
Released in 1976, this comes on the heels of the 1975 release of Mothership Connection. It continues the "Star Child" theme of the previous album while also adding a major character in the storyline, Dr. Funkenstein, who is portrayed on the album by George Clinton. Like the albums that sandwich this one, this album is a goldmine of funky goodness. Adding to the whole freak show is seemingly James Brown's entire backing band. This has everything, outrageously funky bass playing, drumming, horns, soulful singing, Clinton-led weirdness and outer space keyboards. It all begins with what basically amounts to a ghetto version of the Mr. Crowley intro. To top it off, Clinton is rambling something about dinosaurs, outerspace, whatever. It all works pefectly as an introduction. Better get weird right away and lessen the impact of later weirdness. This flows right into one of my favorite P Funk tracks, Gamin' on Ya!. If this song was released today, in the right hands, I think it could be a hit. I love the contrast between the beginning theme and the second (people keep waitin' on the train) part.
The rest of the album amounts to a journey through a cross section of RnB styles at the time. One of the highlights for me is Getten' to Know You. I love the energy and especially the singing in this one. It's so driving and the horns sound great. Another favorite is I've been Watching You (Move Your Sexy Body). Love the sexy time slinky groove in this one. Closing out this album is Funkin' for Fun, sung by Glen Goins. Goins tragically died in 1978 at the age of 24. It's hard to not to think about that when I listen to this song, especially during the "When you see my mother, tell her I'm alright" part. Powerfull stuff.
Obviously, I highly recommend this album.