Joined: Sat Oct 09, 2010 11:11 pm
Posts: 3755
Location: Just a humble motherfucker with a big ass dick.
DDD's Favourite Films
Lists submitted by:
george, ahawk, Zach, Avery Island, Forgotten Son, tyler, monga18, Foggy Notion, Quixote, tudwell, Snoogans, Smallows, jess, pave, Vil, PBR Streetgang, led for your head, Piper, pnoom, Dreww, Sherick, That_Guy, Deany, Lostio
List completion:
10/04/12
Breakdown by decade:
1930s: 1
1940s: 2
1950s: 3
1960s: 3
1970s: 12
1980s: 6
1990s: 9
2000s: 12
2010s: 2
Directors with 2+ films:
4 = Stanley Kubrick
3 = Francis Ford Coppola, Akira Kurosawa, Quentin Tarantino, Andrei Tarkovsky
2 = Paul Thomas Anderson, Joel and Ethan Coen, Milos Forman, Wong kar-Wai, Martin Scorsese
50. Grave of the Fireflies (1988; Isao Takahata)
"This is the best film I never want to see again. Few films have reduced me to that amount of tears. I had to stop watching in order to get a hold of myself, I was a mess.

A beautifully crafted and moving film. If you manage to watch this and don't so a ounce of emotion you either have a heart of stone or are a soulless person. Everything you do after watching just seems irrelevant."
49. Aguirre: The Wrath of God (1972; Werner Herzog)
"Werner Herzog is on his wavelength, reaching for the Promethean and making everybody share the agony and ecstasy -- his masterpiece is a visualization of a medieval priest's diary, the galvanic corpse of a Michael Curtiz swashbuckler, and a documentary about bewildered actors and crew members reacting to unruly vegetation, sludgy raging rivers, an errant butterfly… An essential hallucination, subsequently mined by Coppola, Weir and Malick but unsurpassed in its vision of the withering yet liberating madness beneath our armor."
48. Kill Bill Vol. 1 (2003; Quentin Tarantino)
"The film may be bloody, but it's also bloody gorgeous: a grandly fetishized epic of cinematic aggression. It's a tale of vengeance that hinges on Tarantino's love of ferocity as spectacle -- his immersion in action and exploitation, his addiction to the jazzy catharsis of junk-film kicks."

"Reconfirms Tarantino's status as the master of pop cinema and puts a sense of excitement into the year. He has matched, if not eclipsed, the power and scope of 1994's "Pulp Fiction," though not its human charm."
47. Solaris (1972; Andrei Tarkovsky)
"As in all great science fiction, Andrei Tarkovsky's epic adaptation of Stanislaw Lem's classic novel is as much a plunge into the depths of inner human space as a voyage to the stars... Haunting, provocative, beautifully shot and infused with an irresistible, tender sadness, this is sci-fi, and indeed cinema, at its most powerful and mysterious."
46. Memento (2000; Christopher Nolan)
"Memento," the fiercely imaginative, reverse-chronological story of a man with a mission but no short-term memory, is a stunning modern film noir that plays havoc with the senses.

"A provocatively structured and thrillingly executed film noir, an intricate, inventive use of cinema's possibilities that pushes what can be done on screen in an unusual direction."
45. Wall*E (2008; Andrew Stanton)
"Wall-E may be one of the cutest movies of the year, but it's also a profound and moving work of art. If anyone doubted that Pixar is the most creative outfit in modern motion pictures, this movie should convince them. It is a genuine masterpiece, a word I don't use often."
44. Drive (2011; Nicholas Winding Refn)
"Drive connects with me for a number of reasons: the Driver's emotional stuntedness and violent impulses and his pop music as an aide for learning how to feel primary among them. The use of music is particularly stunning. At its best, pop music condenses universal emotions and longings into a handful of verses set to music that fits that mood. Drive recognizes and utilizes this. Kavinsky's Nightcall, playing behind the opening credits, mirrors the Driver's struggle, as a robotic male voice tries to express romantic sentiments but sounds awkward doing so, and a warm female voice tempers this. This can be seen either as representing Carey Mulligan drawing that "something inside you" out of the Driver, or as a struggle internal to the Driver. In addition to the use of music, the measured violence of the movie is impeccably done. It's brutal enough to be genuinely shocking and spare enough to not be gratuitous—every violent moment is essential. Moreover, each instance of violence has its own character, and the progression of the film and the Driver may in part be assessed by considering the changing character of the violence."
-pnoom
43. The Shining (1980; Stanley Kubrick)
"Alive with portent and symbolism, every frame of the film brims with Kubrick's genius for implying psychological purpose in setting: the hotel's tight, sinister labyrinth of corridors; its cold, sterile bathrooms; the lavish, illusionary ballroom. This was horror of the mind transposed to place (or, indeed, vice versa). The clarity of the photography and the weird perspectives constantly alluding to Torrance's twisted state of mind…Ostensibly a haunted house story, it manages to traverse a complex world of incipient madness, spectral murder and supernatural visions ...and also makes you jump."
42. The Royal Tenenbaums (2001; Wes Anderson)
"I enjoy ensemble casts, and this one is put together about as well as any other that I can think of. I also enjoy a good soundtrack, and this is definitely a good one. Wes Anderson's films aren't really deep and they all pretty much boil down to familial squabbles and people being jerks to each other. The real treasures of Anderson's films are in the mise en scène. The man can create an atmosphere, that is for sure. Everything is so carefully constructed to give off a certain vibe and the cast members and song selections are just pieces in the puzzle. The Royal Tenenbaums is a film that I don't get tired of seeing and can put on when I'm in any kind of mood. There's something to be said for that, I think."
–led for your head
41. L.A. Confidential (1997; Curtis Hanson)
"What you get with L.A. Confidential is a classic noir with all the modern trappings (though one could argue that by this point, the film itself is a classic as well). Supported by one of the best and most reverential screenplays, the amazing cast delivers a noir film that is both classic and contemporary at the same time. This is a movie that both deconstructs what it means to be a noir film and is a film noir itself in the best ways possible."
40. Groundhog Day (1993; Harold Ramis)
"The most horrible thing about life is not knowing what's going to happen next. Or at least that's what we have thought up till now. But Groundhog Day, Harold Ramis's brilliantly imaginative, wildly funny new comedy starring Bill Murray, demonstrates that there is something even more horrible -- knowing exactly what's going to happen next."
39. Annie Hall (1977; Woody Allen)
"Many things mark Annie Hall's place in cinema history, but none of them are the reason you should see this movie. That would be the humour, poignancy and acute observation contained in each and every frame.""Annie Hall, a comedy about urban love and incompatibility that finally establishes Woody as one of our most audacious filmmakers, as well as the only American filmmaker who is able to work seriously in the comic mode without being the least bit ponderous."
38. American Beauty (1999; Sam Mendes)
"An acerbic, darkly comic critique of how social conventions can lead people into false, sterile and emotionally stunted lives, "American Beauty" is a real American original. Multilayered, bracingly resourceful and tweaked to push its many brash ideas to the edge and beyond, this independent-minded feature represents a stunning card of introduction for two cinematic freshmen, screenwriter Alan Ball and director Sam Mendes."
37. GoodFellas (1990; Martin Scorsese)
"If the Godfather films used organized crime as a personification of the corruption of the American society and dream, Martin Scorsese's GoodFellas never rises out of the surface level, not because it is shallow but because it gets itself in too deep. Who can stop to think of the poetry of illegality and how it represents the truth ethos of American law and organization when you're too busy looking over your shoulder for the guy who's gonna whack you? Michael Corleone would sympathize, but only in his twilight: "Just when I think I'm out, they pull me right back in," he once said. The gangsters of GoodFellas do not even have the luxury of dreaming of escape."
36. Chinatown (1974; Roman Polanski)
"…At the start of this I called Chinatown "the best of the neo-noirs," but I have a hard time thinking of it as such. Neo-noir generally works as a broad homage to classic noir; the best certainly work as their own films, but consider Sin City, Blade Runner and the entire filmography of the Coen brothers. All of them draw clear influences--and most downright reference, movies like The Third Man and Double Indemnity. Chinatown, however, works completely as its own film, and I believe it belongs on the list of the classics."
35. Network (1976; Sidney Lumet)
"So the movie's flawed. So it leaves us with loose ends and questions. That finally doesn't bother me, because what it does accomplish is done so well, is seen so sharply, is presented so unforgivingly, that Network will outlive a lot of tidier movies.""One would assume that a 1976 film about network television would feel dated today, but director Sidney Lumet and screenwriter Paddy Chayefsky had such a fine concept that Network seems downright contemporary."
34. Spirited Away (2001; Hayao Miyazaki)
"It's a masterpiece, pure and simple -- certainly the finest thing that the distinctive Japanese style of animation, called anime, has produced -- and a film that can stand with the Disney classics of the 30's and 40's in the range of its imagination and the quality of its execution.""Initially seems like a Through the Looking-Glass fantasy, but rapidly picks up a resonance, weight and complexity that make it all but Shakespearean."
33. It's A Wonderful Life (1946; Frank Capra)
"Capra's Dickensian masterpiece... James Stewart is a vision of decency as the selfless guy George Bailey who finds himself deeply loved in the smalltown community he'd once dreamed of leaving: a redemptive discovery that follows his suicidal despair one snowy Christmas night. Every time I watch it, I am surprised afresh by how late in the story Clarence the angel appears, on his mission to show George how bad the world would have looked without him. The film is gripping enough simply with the telling of George's lifestory. A genuine American classic."
32. One Flew Over the Cuckoo's Nest (1975; Milos Forman)
"The onscreen battle between Jack Nicholson and Louise Fletcher serves as a personal microcosm of the culture wars of the 1970s -- and testament to the director's vision that the film retains its power more than three decades later.""Although the picture has not aged as well as some of its contemporaries, its themes remain germane, the story has lost none of its punch, and the performances retain their freshness. Viewed 30 years after its release, One Flew Over the Cuckoo's Nest remains a very good motion picture, although one that perhaps just misses the pinnacle of greatness where its reputation suggests it resides."
31. Wild Strawberries (1957; Ingmar Bergman)
"It can be very embarrassing and difficult to think about your past. Things you did or didn't do. Things you said or didn't say. Or worse yet, things you can't even remember. I'm still young, so I have a difficult time fully connecting with Isak, but I can meet him halfway, I think. Even though I'm not exactly looking forward to it, I know and accept that one day I will die. When I get really close to dying, getting a chance to go back and revisit some of the moments in my life would be a very good bit of closure. Hopefully I can leave myself with some interesting moments to revisit; otherwise old Matt is gonna get bored quick."-led for your head"One of Bergman's warmest, and therefore finest films, this concerns an elderly academic - grouchy, introverted, dried up emotionally - who makes a journey to collect a university award, and en route relives his past by means of dreams, imagination, and encounters with others. It's an occasionally over-symbolic work, but it's filled with richly observed characters and a real feeling for the joys of nature and youth. And Sjöström gives an astonishingly moving performance as the aged professor."
30. No Country For Old Men (2007; Joel and Ethan Coen)
"A scorching blast of tense genre filmmaking shot through with rich veins of melancholy, down-home philosophy and dark, dark humor, No Country for Old Men reps a superior match of source material and filmmaking talent.""Though I'm not exactly going out on a limb taste-wise, it's prudent that I admit my biases: I love the Coen brothers. Out of 13 films from 1984's Blood Simple to last year's Burn After Reading, I've loved all but two, and only disliked one (The Ladykillers). I consider several to be classics if not masterpieces, and a number of them would easily end up on my list of favorite films. Yet one film stands above them all. No Country for Old Men, the Coens' adaptation of the brilliant author Cormac McCarthy's bestseller, is the finest film in the brothers' brilliant oeuvre, and quite possibly the greatest film of the decade."
29. Children of Men (2006; Alfonso Cuaron)
"Made with palpable energy, intensity and excitement, it compellingly creates a world gone mad that is uncomfortably close to the one we live in. It is a Blade Runner for the 21st century.""Children of Men works on every level: as a violent chase thriller, a fantastical cautionary tale, and a sophisticated human drama about societies struggling to live. This taut and thought-provoking tale may not have the showy special effects normally found in movies of this genre, but you won't care one bit after the story kicks in, about a dystopic future where women can no longer conceive and hope lies within one woman who holds the key to humanity's survival. It will have you riveted."
28. The Tree of Life (2011; Terrence Malick)
"Terrence Malick's The Tree of Life may be the closest the cinema has to its own Mass in B minor: it's gargantuan, encompassing, messy and bold. It's also exquisitely beautiful and personal on a level seemingly impossible for something that feels so vast. Bach spent about two decades tweaking and expanding his mass; Malick has been collecting ideas and images for this for 30 years, and the inspirations behind it likely stretch back even further. The Missa comprises movements under four distinct sections, and The Tree of Life incorporates the themes and styles of the director's four previous features into a film that feels infinite and minute, unwieldy yet perversely whole.""Terrence Malick's singularly deliberate style may prove unrewarding for some, but for patient viewers, Tree of Life is an emotional as well as visual treat."
27. Eternal Sunshine of the Spotless Mind (2004; Michel Gondry)
"Eternal Sunshine is one of those films I have trouble writing about, not only because I want everyone to experience it for themselves but because I worry that I'd only get lost in my platitudes. So perfect is every element -- the editing, the direction, the off-the-wall yet piercing script, the acting -- and so expertly and originally are they arranged that it stands on its own island. I can't imagine anyone having the balls to try to duplicate it, because it's so singular any attempt to build on it will immediately be seen as a ripoff. It boasts career-best performances from Carrey and Winslet, and at the very least all the other actors put in excellent work. Kaufman's script might lack the ambition of his later opus Synecdoche, New York and the wit of Adaptation, but he injects such a knowing sadness and hope into the film that he finally proves true the saying so many dismiss as pithy: 'twas better to have loved and lost than never loved at all."
26. The Rules of the Game (1939; Jean Renoir)
"I was talking with Tudwell the other day about how the role of Octave (and by proxy Renoir) in this film for me goes hand in hand with Van Morrison's mantra in Astral Weeks of "I ain't nothing but a stranger in this world". It's about being someone who experiences life with great passion and sensitivity, with wonderful and horrible insight into others, and therefore both a deeper love and a deeper hurt, a sensitivity which will always necessarily leave you on the outside. Renoir knew more about what it took to truly love others than any other film maker, but at the end even Octave has to walk away from the danse macabre of the manor house. Not sure if I am willing to do the same (I ultimately hope to be closer to Ozu's simultaneous detachment from and acceptance of it all) but this film captures the passionate reasons why I sometimes want to just run away and become a hermit—while also really not wanting to— more fully than any other work of art."
-Dreww
25. A Clockwork Orange (1971; Stanley Kubrick)
"It seems to me that by describing horror with such elegance and beauty, Kubrick has created a very disorienting but human comedy, not warm and lovable, but a terrible sum- up of where the world is at... Because it refuses to use the emotions conventionally, demanding instead that we keep a constant, intellectual grip on things, it's a most unusual--and disorienting--movie experience.""It is one of the most memorable British films ever made, and one that is still valid, entertaining (in its own way) and peppered with many extraordinary scenes."
24. Rashomon (1950; Akira Kurosawa)
"The film's nonlinear narrative decisively marked it as a modernist work and as a part of the burgeoning world art cinema that was transforming the medium in the 1950s. With Rashomon and his subsequent films, Kurosawa came to rank among the leading international figures of the art cinema, in the company of Ingmar Bergman, Federico Fellini, Michelangelo Antonioni, and Satyajit Ray. Like their work, Rashomon was more than just commercial entertainment. It was a film of ideas, made by a serious artist with a sophisticated aesthetic design.""One of legendary director Akira Kurosawa's most acclaimed films, Rashomon features an innovative narrative structure, brilliant acting, and a thoughtful exploration of reality versus perception."
23. Chungking Express (1994; Wong Kar-wai)
"I was a barista for a year. I worked with some cute girls and a lot of cute girls walked through the line. You build a sort of repertoire and a culture is created. Hopefully that helps to make your time working not suck because some people are just dicks or incompetent. Or worse: both. What I'm getting at is that everyone falls into a routine. Certain elements can make it more enjoyable. I hoped that I worked with certain people or specific customers would stop by and vice versa. Sometimes you get so caught up in your routine that you miss things that would otherwise be obvious or you find yourself doing things that are completely ridiculous."
-led for your head
"Wong Kar-wai's movie tells two loosely interlinked stories, both about lovelorn cops who get involved with women who are wrong for them... This is what Godard movies were once like: fast, hand-held, funny and very, very catchy. The year's zingiest visit to Heartbreak Hotel."
22. The Godfather: Part II (1974; Francis Ford Coppola)
"If The Godfather served as a haunting eulogy for the American nuclear family, its sequel charted the death of the American Dream, ironically through those who unquestionably achieved it. Irony and cynicism pervades its narrative and its aesthetic, the golden hues of its tinting a comment not only on our sepia-toned nostalgia but America and its amber waves of grain. The Godfather Part II is a portrait of a tragic hero who is neither tragic (in that he is not deserving of a sliver of pity) nor heroic; though the film bifurcates and splits focus with another character from another time period, it is ultimately about the fall of Michael Corleone.""Drawing on strong performances by Al Pacino and Robert De Niro, Francis Ford Coppola's continuation of Mario Puzo's Mafia saga set new standards for sequels that have yet to be matched or broken."
21. In the Mood for Love (2000; Wong Kar-wai)
"One aspect of Wong Kar-Wai's films that most attracts me is his focus on strange, idiosyncratic rituals in relationships. Here, a shared betrayal leads to cathartic role playing that tries to make something out of the pieces left over. While it's hard to put my finger on precisely what separates this film from the other three Wong Kar-Wai films I've seen, part of it is that I think this is his most effective exploration of such rituals. The seriousness and gravity of it strikes me more than the comedic elements of Chungking Express and Fallen Angels. Like Fallen Angels, In the Mood for Love has a distinct color scheme. In this case, it's browns and reds, the color of earth (which becomes very significant by the end). This is a film where I feel at home in every shot, and there's nothing in it I can criticize."
-pnoom
"Probably the most breathtakingly gorgeous film of the year, dizzy with a nose-against-the-glass romantic spirit that has been missing from the cinema forever."
20. Amadeus (1984; Milos Forman)
"Amadeus is constructed in wonderfully well-written and acted scenes -- scenes so carefully constructed, unfolding with such delight, that they play as perfect compositions of words. Most of them will be unfamiliar to those who have seen Peter Shaffer's brooding play, on which this film is based; Shaffer and Forman have brought light, life, and laughter to the material, and it plays with grace and ease.""A smart, intelligent, and sumptuous entertainment, and for a change a Hollywood movie that captures the essence of genius and creativity, in this case Mozart's music and Salieri's sponsorship, without resorting to visual or verbal cliches."
19. Andrei Rublev (1966; Andrei Tarkovsky)
"Despite the immense length, this is easily the most accessible of the three Tarkovsky films I've seen, and also the most rewarding. Like any genuinely rewarding spiritual film, the focus is not on religious faith but faith itself. Andrei Rublev is as much a medieval coming-of-age tale as it is an argument for goodness in the face of great evil…the bell-raising sequence is one of the all-time great moments of cinema, a technical triumph that conveys both skill and emotion deftly. I'm merely saying that Tarkovsky never gave up and, like Rublev, he left behind some of the greatest pieces of art of this or any other period. If the term "masterpiece" cannot be applied to this film, I know not what it could possibly describe."
18. Inglourious Basterds (2009; Quentin Tarantino)
"Inglourious Basterds is a modern-day classic, whatever that means. Is a classic film one that adheres to a certain criteria? Or is a classic film one that defies any predictable criteria? Well, Quentin Tarantino's Basterds does both; it's a tribute to cinema and a commentary on cinema. It is inspired by the greats, whilst also being great on its own unique terms. It features performances, sequences and fleeting shots that deserve to enter the pantheon of classic movie moments.""It's just possible that Tarantino, having played a trick on history, is also fooling his fans. They think they're in for a Hollywood-style war movie starring Brad Pitt. What they're really getting is the cagiest, craziest, grandest European film of the year."
17. Citizen Kane (1941; Orson Welles)
"Far and away the most surprising and cinematically exciting motion picture to have been seen here in many a moon. As a matter of fact, it comes close to being the most sensational film ever made in Hollywood.""Its imagery (not forgetting the oppressive ceilings) as Welles delightedly explores his mastery of a new vocabulary, still amazes and delights, from the opening shot of the forbidding gates of Xanadu to the last glimpse of the vanishing Rosebud (tarnished, maybe, but still a potent symbol). A film that gets better with each renewed acquaintance."
16. Fight Club (1999; David Fincher)
"Rarely has a film been so keyed into its time -- in ways that, commercially, will be both advantageous and damaging -- as "Fight Club." On one hand, the feature is the perfect reflection of the millennium malaise that pits pervasive nihilism against an urgent need for something to grasp onto; on the other, it caps off a period in which the media and Washington have never been so assiduous in pointing the finger at Hollywood over the impact of screen violence on society and on youth in particular. But despite certain hostility from some sectors, especially in the U.S., this bold, inventive, sustained adrenaline rush of a movie about a guru who advocates brutality and mayhem should excite and exhilarate young audiences everywhere in significant numbers."
15. The Empire Strikes Back (1980; Irvin Kershner)
"The Empire Strikes Back is the best of three Star Wars films, and the most thought-provoking. After the space opera cheerfulness of the original film, this one plunges into darkness and even despair, and surrenders more completely to the underlying mystery of the story. It is because of the emotions stirred in Empire that the entire series takes on a mythic quality that resonates back to the first and ahead to the third. This is the heart.""Dark, sinister, but ultimately even more involving than A New Hope, The Empire Strikes Back defies viewer expectations and takes the series to heightened emotional levels."
14. Dr. Strangelove: or, How I Learned to Stop Worrying and Love the Atomic Bomb (1964; Stanley Kubrick)
"Dr. Strangelove is, first and foremost, absolutely unflinching... Kubrick's precise use of camera angles, his uncanny sense of lighting, his punctuation with close-ups and occasionally with zoom shots, all galvanize the picture into macabre yet witty reality.""Dr. Strangelove applies to nuclear war, but its vicious examination of the nature of war itself gives it a timeless quality that survived the fall of the Soviet Union. It reduces war to the exploits of men whose inferiority complexes drive them to kill. Even when a nuke sets off the Russian doomsday machine and it spells the end of mankind, Turgidson and the Russian ambassador still bicker, and the ambassador sneaks off to take secret photos of the War Room. Why on Earth would he do this? Does he not understand that the notion of politics no longer has any meaning? It's just his job; who knows if Americans will agree to a peace settlement as a band of specially-chosen survivors flee to mine shafts, or vice-versa. Even at the end of civilization, man will look for any excuse to kill someone else."
13. Blade Runner (1982; Ridley Scott)
"The secret of Blade Runner is that Scott's fantastically baroque, future-shock imagery, all dark decay and techno-clutter, effectively becomes the story. As the layers of mood and detail settle in, the very process by which we watch the film — scanning those shimmering, claustrophobic frames for signs of life — turns into a running metaphor for what Blade Runner is about: a world in which humanity has been snuffed by ''progress.'' This is perhaps the only science-fiction film that can be called transcendental.""The most remarkably and densely imagined and visualized SF film since 2001: A Space Odyssey, a hauntingly erotic meditation on the difference between the human and the nonhuman."
12. Apocalypse Now (1979; Francis Ford Coppola)
"Apocalypse Now is more clearly than ever one of the key films of the century. Most films are lucky to contain a single great sequence. Apocalypse Now strings together one after another, with the river journey as the connecting link... Apocalypse Now is the best Vietnam film, one of the greatest of all films, because it pushes beyond the others, into the dark places of the soul. It is not about war so much as about how war reveals truths we would be happy never to discover.""Apocalypse Now is more than the greatest Vietnam film ever made, more than the best war film period; it is a document of a part of man that no amount of conditioning and evolution will ever fully eradicate, and it's a beast that can emerge with only a strong push."
11. Ran (1985; Akira Kurosawa)
"An adaptation of Shakespeare's King Lear, Ran is a culmination of everything the director ever put to celluloid: it's a study of a broken old man trying to do something right with his life before he passes (Ikiru), a Shakespearean adaptation (Throne of Blood, The Bad Sleep Well), and a samurai epic (too many to list). It's also a showcase of his state of mind at the time.""Ran is slightly marred by some too obvious straining toward masterpiece status, yet it's a stunning achievement in epic cinema. Working on a large scale seems to bring out the best in Kurosawa's essentially formal talents; Kagemusha seems only a rough draft for the effects he achieves here through a massive deployment of movement and color."
10. Lord of the Rings Trilogy (2001-2003; Peter Jackson)
"In my life, I've spent an embarrassing amount of time exploring Tolkien's Middle Earth Universe. I'll go toe to toe with you on Middle Earth trivia. I'm not scared. I love The Silmarillion and wish that they could find a way to adapt parts of it to film or a mini series or something. I'm super stoked for the live action The Hobbit films and the animated Hobbit film is a masterpiece and I'll fight you if you say otherwise.

Anyways, this obviously isn't the first epic film to be made, but in my totally unbiased opinion, this is easily the best one. It manages to capture the vastness of Middle Earth but it is grounded in characters that may not always be well written or faithfully adapted, but are still characters that I have come to love. Every year I try to gather some friends and watch all three extended edition films back to back to back in one sitting. There is never a set date for it, but it is always something that I look forward to. It becomes an experience for me. I easily get lost in the stories and just go with it. Whenever I find the world to be too much to handle and I need to escape to a familiar yet foreign place, The Lord of the Rings films are my destination of choice."-led for your head
9. Magnolia (1999; Paul Thomas Anderson)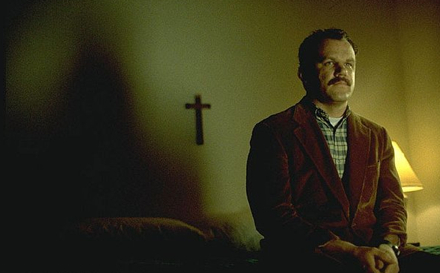 "Writer/director P.T. Anderson proves not only that he is no one-hit wonder ("Boogie Nights") with his latest screen effort, but that he is a master of pithy dialogue and dynamic juxtaposition of character. In his third feature, the director brilliantly sets apart ten characters who support and oppose each other in revealing set-pieces, confirming the film's loosely optimistic leitmotif that "strange things happen all the time…Just as something so reliably surprising as the weather can modify people's behavior, "Magnolia" encompasses an inter-connective human bond that accepts reality's blind spots. Purity of intention, as the story suggests, is a happy accident that can hit everyone."
8. The Godfather (1972; Francis Ford Coppola)
"Taking a best-selling novel of more drive than genius, about a subject of something less than common experience (the Mafia), involving an isolated portion of one very particular ethnic group (first-generation and second-generation Italian-Americans), Francis Ford Coppola has made one of the most brutal and moving chronicles of American life ever designed within the limits of popular entertainment.""One of Hollywood's greatest critical and commercial successes, The Godfather gets everything right; not only did the movie transcend expectations, it established new benchmarks for American cinema."
7. There Will Be Blood (2007; Paul Thomas Anderson)
"Daniel Plainview is surely one of the most magnetic characters in any recent story. The film mirrors him, building up his hatred piece by piece. It's fascinating how he constructs a narrative about himself as an oil man and a family man, violently rejecting anything that gets in the way of that image. This surface hides a pathological need for complete control—his true hatred is reserved for those he can't control, or who try to manipulate or control him. Fittingly, in his ultimate act of revenge on Eli, which finally settles a long-standing score between them, he loses control of himself. This scene is set to celebratory music that is transformed into a cruel, delirious irony. The use of long camera shots lets moments like these sink in. It's also interesting that both of the dominant characters—Plainview and Eli—are entirely unlikeable. What primarily sets them apart is, again, that Plainview is magnetic." -pnoom"Widely touted as a masterpiece, this sparse and sprawling epic about the underhanded "heroes" of capitalism boasts incredible performances by leads Daniel Day-Lewis and Paul Dano, and is director Paul Thomas Anderson's best work to date."
6. Stalker (1979; Andrei Tarkovsky)
"If I were to take all of my pragmatic trappings and worldly attachments out into the backyard and shoot them dead, undergo some kind of fucking ego death and start over, the spiritual warrior Drew that would emerge would have his contradictions and perils perfectly mapped out by the landscape of this film. Hard to explain my attraction to this film beyond that other than to repeat clichés about how Tarkovsky's style is an impossible balance between the tactile and the ethereal, with this film being the ultimate example of that. Words like transcendence are thrown around too much, but this is the film that really deserves it. It's almost impossible to comprehend that this is just celluloid and not an actual portal into another, truer world."
-Dreww"A self-loathing hipster, guilt ridden scienstician and paranoid gypsy skulk around throwing a nut or bolt or whatever into a lush overgrown urban ruin declaring their cryptic ethics to no one in particular while they retrieve it. The cameraman wanders away from them whenever possible. 5 stars."
5. The Big Lebowski (1998; Joel and Ethan Coen)
"Maybe it's the way the Coen brothers tie everything together with bowling that makes this Los Angeles-based tale of burnouts, gun buffs, doobies, tumbleweeds, art, nihilism, porn, pissed-on rugs, severed toes, Saddam Hussein, attack marmots, Teutonic technopop and Bob Dylan - not to mention extortion, kidnapping and death - such a hilarious pop-culture hash. The Big Lebowski is the best movie ever set mostly in a bowling alley.""Like all Coen films, this one is as meaningless as it is potentially profound, but above all, Coen films are always tightly scripted, brilliantly performed, thoughtful dialogues on classic film genres with a tart sense of humor. In The Dude, the Coens offer an upbeat philosophical approach to cruel fate: roll with the punches and "abide". For what is the alternative?"
4. Seven Samurai (1954; Akira Kurosawa)
"The first time I saw Seven Samurai was on my laptop. You know a movie is really, really good when arguably the most epic film ever made looks awesome on a shitty laptop screen. You also know a movie is really, really good when you aren't once distracted from it or become tempted to browse the internet for just a little bit because you're watching it on a laptop in an uncomfortable chair. The film is fucking 207 minutes long. Movies aren't three and a half hours long anymore. They stopped doing that. I hardly have the attention span to finish this sen - fuck it. Seriously, how many things could you accomplish in 207 minutes? If you told me that's how long I'd have to live and I could do anything that I wanted in the world, I'd probably watch Seven Samurai. Anything else would just get too depressing. Who has time for teary goodbyes or awkward sex when I can watch the triumph of humanity and get both of those things and more? Not I said the Matt.

Not too long after I watched Seven Samurai, I watched The Magnificent Seven because, you know, Western remake of Seven Samurai. The cast of The Magnificent Seven is basically everything you could hope for in a Western in 1960. I was bored as shit. Not because the film is bad, but because you can't remake Seven Samurai half-assed. Nearly all of the humanity is sucked out of it and it becomes a bunch of hard asses shooting Mexicans. That doesn't sound bad, but it isn't Seven Samurai.

I've been fortunate enough to have seen the film on the big screen. You just aren't getting the full experience without it, and I will never think about it the same way again after viewing it the "proper way". It sounds obvious, but everything becomes bigger. The fights are more epic. The scenery more beautiful. The rain more unrelenting. You get the idea.

However, there are plenty of movies that have pretty cinematography and exciting moments. What separates Seven Samurai from the pack is the depth of humanity that is shown. Kobayashi may have directed The Human Condition, but Kurosawa showed him how to do it. The shit that the villagers are put through and the lengths that they go to to remedy it... An emotional roller coaster, to say the least.

And finally, the titular samurai. What I find so amazing is that each of them has a distinct personality. Plenty of smaller scale movies have a hard time coming up with one good character. This one has them in spades. The villager's problem is a puzzle, and every character, both villager and samurai, is a puzzle piece. It takes some time to figure out the purpose for everyone, but at the end, the day is saved and life can go on. That's what everyone wants, isn't it?" -led for your head"Breathtaking, fastmoving, and overflowing with a delightfully self-mocking sense of humor, Akira Kurosawa's Seven Samurai is one of the most popular and influential Japanese films ever made.... This rip-snorting action-adventure epic about a sixteenth-century farm community led by a band of samurai warriors defending itself against a marauding army, sparked not only an American remake, The Magnificent Seven (1960), but went on to influence a score of other westerns, particularly those of Sam Peckinpah and Sergio Leone."
3. Taxi Driver (1976; Martin Scorsese)
"The movie I've watched the most and loved over the years for the most constantly shifting reasons. It's so emblazoned in my psyche that I really can't imagine what life would be like without it. There's just something about how Michael Chapman's burnt out cinematography captures the demonic dance of the neon city lights. How Bernard Herman's score mixes high class glamour with gritty street-level militarization. How De Niro's performance balances perfectly observed urban white boy alienation with alluringly/repulsively antisocial impusles. How the editing is both pathologically hypnotic and terrifyingly confrontational. There's something wicked, contradictory, and unhealthy about this movie, but then there's something wicked, contradictory, and unhealthy about post-industrial American society. I don't know exactly what that sick thing is, but whatever it is, it's certainly buried within this film somewhere. As far as I'm concerned everyone involved never came even remotely close to matching this achievement ever again, and that's saying something."
-Dreww"What can be newly said about this savage, many-headed dragon of the American new wave, a luridly realistic movie about a quiet New York psychopath that became one of the most revered movies of the entire pre-Skywalker century? You either love it or you love it; in any case, Martin Scorsese's history-making scald is truly a phenomenon from another day and age. Which is to say, imagine a like-minded film of this decade killing at the box office and getting nommed for Best Picture."
2. 2001: A Space Odyssey (1968; Stanley Kubrick)
"The genius is not in how much Stanley Kubrick does in 2001: A Space Odyssey, but in how little. This is the work of an artist so sublimely confident that he doesn't include a single shot simply to keep our attention. He reduces each scene to its essence, and leaves it on screen long enough for us to contemplate it, to inhabit it in our imaginations. Alone among science-fiction movies, 2001 is not concerned with thrilling us, but with inspiring our awe." "Stanley Kubrick's 2001: A Space Odyssey is one of the greatest films of all time and it is the director's most profound and confounding exploration of humanity's relationship to technology, violence, sexuality and social structures. Kubrick's philosophical inquiries about the nature of humanity are explored to various degrees throughout all his films but in 2001: A Space Odyssey he explored his preoccupations most substantially by examining the place that humans occupy in the universe, asking some extremely weighty questions about the way humanity has evolved and suggesting what the next stage of our evolution will be like."
1. Pulp Fiction (1994; Quentin Tarantino)
"A triumphant, cleverly disorienting journey through a demimonde that springs entirely from Mr. Tarantino's ripe imagination, a landscape of danger, shock, hilarity, and vibrant local color. Nothing is predictable or familiar within this irresistably bizarre world. You don't merely enter a theater to see Pulp Fiction; you go down a rabbit hole.""Pulp Fiction is one of those bizarre and puzzling movies, which is brilliant and brutal, jaw-droppingly cruel and disarmingly sweet. It doesn't evoke straight-out-of-the-book responses. Some people liked the film's unique structure; a few tried wrapping their heads around the puzzling narrative; and still others hated it because of its violence and language."
Last edited by Quinnsy Lohan on Wed Apr 10, 2013 11:05 am, edited 23 times in total.