APICHATPONG WEERASETHAKUL
(1970- ) Thailand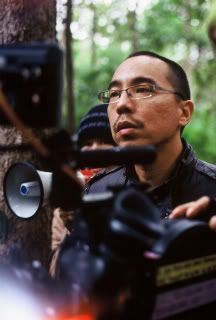 "Architecture taught me how to look at things and how to accommodate people in certain spaces. People experience space, beauty, in true time, and film is also like journeying through time."
"Film is like a drug. It is a shelter when you cannot deal with reality."
1993 Bullet (short)
1994 Kitchen and Bedroom (short)
1994 0016643225059 (short)
1996 Like the Relentless Fury of the Pounding Waves (documentary short)
1998 Thirdworld (short)
1999 Malee and the Boy (documentary short)
2000 Boys at Noon (short)
2000
Mysterious Object at Noon
2001 Masumi Is a PC Operator (short)
2002
Blissfully Yours
2003 The Adventures of Iron Pussy
2004
Tropical Malady
2005 Worldly Desires (short)
2005 Ghost of Asia (short)
2006
Syndromes and a Century
2009
A Letter to Uncle Boonmee
(short)
2009
Phantoms of Nabua
(short)
2010
Uncle Boonmee Who Can Recall His Past Lives
I would imagine that Uncle Boonmee will end up redded, but let's let it spread a bit first. I think it at least deserves a bold based on the awards and reception it's gotten so far.